Let's go to work.
Introducing Landline Creative Labs in downtown Ypsilanti.
Mobile offices have their charms. Working from home is pretty awesome. But sometimes you need a reliable connection— a connection to inspiring peers, a connection to your downtown community. Landline Creative Labs, a venture of Mark Maynard and Jesse Kranyak, offers all that and more. A place to have in-person meetings. A site where you will forge unique collaborations. A space to go to work so your home can stay a home.
COMING IN SPRING 2017
Is creativity at the heart of your business?
Landline Creative Labs will bring 11 modern office spaces to 209 Pearl Street. Monthly rents begin at $150. The building is directly across from the Blake Transit Center, public parking, and close to good places to eat and drink.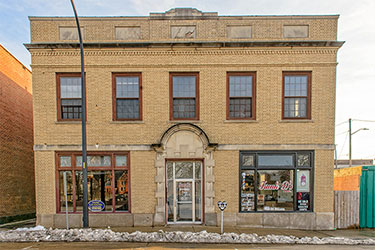 About 209 Pearl
Built almost a hundred years ago, 209 Pearl once housed offices for Michigan Bell Telephone. The phone company sold it in the mid 1960s. Over the years, it has had many lives— and in recent years, it was a boarding house. In September of 2014, it burned in a fire, and the second story has stood empty since. The lower level is (and will remain) the home of a thriving local barbershop, Frank D's.
Is this really going to happen?
While there is always risk, things seem to be on track. We have a purchase agreement for the building, we have agreed to terms with a bank, and we are working with the City of Ypsilanti on the various approvals we need to move forward. Ideally we would have waited until everything was set before launching this page and going public, but, after the better part of a year working behind the scenes, it got to a point where we could no longer keep it a secret.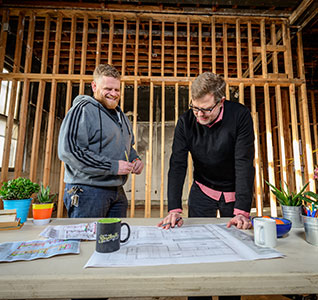 I do my best work when I'm around other creative, motivated people. I'm moving my video studio to Landline as it's a place where that's most likely to happen.
Donald Harrison
My business is about to grow and I need a dedicated work space. Landline's in the heart of downtown Ypsilanti, near my home, and full of potential collaborators: there's so much to get excited about!
Linette Lao
I've worked solo for years and, as a creative, this has its limitations. I'm excited to be around other people and feed like a vampire off their ideas and energy. 
Lara Zielin
Moving my studio into the creative community that is Landline opens many exciting possibilities for myself & my clients. I look forward to building an amazing space with the other professionals involved.
Chris Stranad
What kinds of companies are you looking for?
Creative ones! Small ones. Interesting ones!
Are these artists studios?
Landline's more of an office. If you are looking for studio space, Ypsilanti has some great options— including Riverside Arts Center, Ypsi Alloy Studios and more.
Is this an incubator?
No. We're not offering services to help people grow ideas into companies. We're just providing secure, modern office space for existing companies and individuals.
Are there common facilities? What about security and access?
There will be common spaces and bathrooms on both the first and second floor. Check out our blog as we get underway for building plans and photos.
Tenants will have 24 hour access to their Landline office, and all individual offices will be private and securable. We'll also be increasing the lighting around the building. 
Is this a good thing for Ypsi?
We'd like to think so. The building, which was most recently a boarding house, has been largely vacant since 2014, when a fire in one of the bedroom units consumed a good portion of the second floor. Without significant investment, the building, which has been deemed "obsolete" by the City of Ypsilanti, will continue to fall into disrepair.
Ypsilanti is on the edge of a renewal driven by its unique creative culture. Landline will be a local business owned by longtime Ypsi residents who want to see the city grow in a way that is considerate of the people and history of the place.